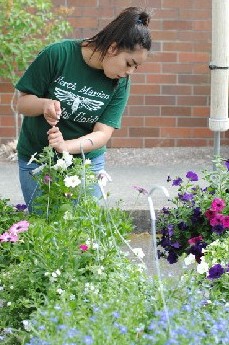 About Tigard Farmers Market (TFM)
The TFM, established in 1993, is focused on bringing farmers, community and non-profits together in a way that benefits all. Farmers grow local produce, plants, and flowers; our Tigard Community members gather together to buy these products; and weekly non-profit booth space gives all the opportunity to give back. Tigard Farmers Market. GROW. GATHER. GIVE
The Tigard Farmers Market was started through the efforts of dedicated community members that wanted a market in Tigard. Over time the market has evolved with the fabric of the community. As part of it evolution the market strengthened its presence by coming under the leadership of the Tigard Chamber in 2012. Our ongoing commitment is to bring fresh, locally produced fruits, vegetables, plants, food and crafts to the community; to support local farmers, and to provide a community gathering place.
All of us involved with the Tigard Farmers Market thank you for your continuing patronage. If there is anything that we can do to help make your experience at the market better; if you have ideas for new options; have products or produce you would like to display and market, please feel free to contact us. We can be reached by e-mail, phone or by stopping by the market information booth. We look forward to seeing you this season.
About Tigard Chamber of Commerce (TCC)
The TCC is creating a vibrant, supportive, interconnected business community where strength through collaboration and power through partnerships makes Build & Grow Business. Together. We do this by building a strong local economy, providing business networking, promoting our community and representing the interests of business with government.