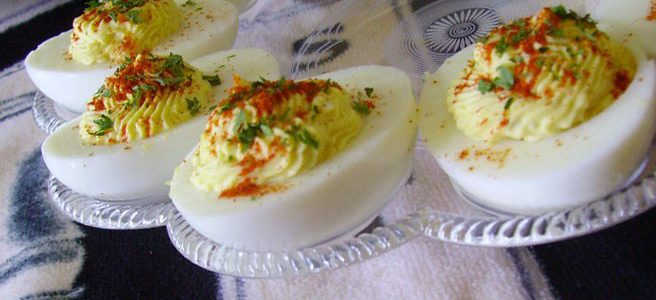 The best deviled eggs ever. Some secrets are meant to be shared.
Ingredients:
12 Hard boiled eggs.
About 1 cup mayonnaise .
Salt and pepper. ( IF you have celery salt, use that instead)
2 Tablespoons sweet relish, strained.
Mustard, to taste. ( IF you have mustard powder, use that instead)
Half a teaspoon of Curry. (Curry goes great with egg dishes)
Half teaspoon of Horseradish
Whenever making deviled eggs, its a bit like a science project. and the best way to make the best deviled eggs to keep tasting the mixture to see what needs more or less.  That's why its written "about 1 cup mayo".
Here's a hint to easy peeling.  Get your large pot of water up to a rapid boil, then remove the pot from the heat source. Gently lower the eggs into the pot and return to the burner. Add teaspoon of baking soda to water and boil for about 15 minutes. Your eggs should peel easy!
After slicing the boiled eggs lengthwise, remove the yolks and place in large bowl.  Smash and grind the yolks with a fork BEFORE adding any ingredients in the bowl.  Otherwise the mixture will be lumpy and wet.  Add ingredients one by one. Adding more or less to your preference. Once mixture is at your desired consistency, scoop mix into a large plastic ziploc bag, cut small hole at the bottom and pipe into eggs whites, garnish with light sprinkle of paprika.