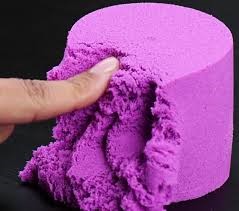 Happy holidays everyone! It's getting dangerously close to Christmas, and if you're like everyone else celebrating the holiday, you may feel like you've left some ends untied and some tape unstuck.
Shopping for children? That can really add up, toys are getting more complex and expensive each year. Have you heard of kinetic sand? Similar to playdough, it's like playing with damp sand without the mess and falling apart. Dust and allergen free, no residue, keeps your hands clean and only sticks to itself. (No batteries required!) This sand is popular in toy stores, and just one bag of it is upwards of $16! Here is how to make it yourself.
You will need:
2 Cups Fine Sand– Colored or not. You can also make the colors yourself with food dye and plain white sand. You can find a large bag of fine white sand at Joann Fabrics and Crafts off of Pacific Highway right here in Tigard, a large bag sells for under $5
3 Tablespoons of Cornstarch 
1 tsp Dish Soap, like Dawn or Palmolive
A bowl and whisk
Directions: 
Add sand and corn starch and mix thoroughly with whisk.
Add soap and gradually stir in water with whisk.
Add food coloring.
Whisk again, sand will feel wet and look frothy.
Let dry for about 2 hours.